DR. WILLIAM PATRICK FOSTER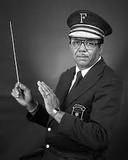 Dr. William Patrick Foster, recognized as one of the world's most renowned band directors, was the creator and band director of the internationally acclaimed Florida A&M University (FAMU) Marching "100" Band for over 50 years. His innovative approach to marching band entertainment resulted in his own unique style of band pageantry, which dazzled millions and brought great recognition to the State of Florida and the nation. As an artist and an educator, Dr. Foster truly revolutionized marching band techniques and reshaped the perception of the art form.
Dr. Foster was born in Kansas City, Kansas, in 1919, the youngest of four children. His parents were hard-working people–his mother a homemaker, his dad a railway mail clerk–but the family suffered poverty. Foster was the only member of the family who showed any interest in music.
When he turned 12, Foster bought a used saxophone with money he made doing odd jobs around his neighborhood. Seizing a rare opportunity to train at the Horner Institute of Fine Arts in Kansas City, Missouri, Foster soon traded his outdated saxophone for a clarinet. By the time he entered Sumner High School, he was a proficient player, becoming the first clarinetist in the school's orchestra.
Foster's high school band director became his close mentor and urged him to pursue a career in music. At age 17, Foster got his first taste of conducting when he was tapped as the orchestra's student director. Before he graduated in 1937, Foster was director of an all-city band.
In 1941, Foster received a B.A. degree in music education from the University of Kansas. After graduation, he taught music and band for two years at Lincoln High School in Springfield, Missouri. Ambitious, he sought more promising jobs within the community of historically black institutions in the South. He spent a year at Fort Valley State University, near Macon, Ga., then moved on to the Tuskegee Institute in Alabama.
At the half-time of a campus football game between Tuskegee and a visiting team from Florida A&M College, Dr. Foster's band caught the attention of Florida A&M College president William Gray who was attending the game. That evening, Gray met with Foster and offered him a job. Gray wanted to organize a world-class marching band as a means of promoting the university. He had concluded that Foster had the talent and energy to make it happen.
Dr. Foster moved to Tallahassee in 1946 and started a 52-year career that fulfilled President Gray's wishes far beyond what he could have imagined possible. Starting with a group of 16 students, Foster created what would soon become known as "The Marching 100," a band built around Foster's creative imagination and powerful command.
Under Dr. Foster's leadership, the band's reputation soared. Breaking with tradition, Foster revved up performances with showmanship, employing rapid tempos, high-stepping, and dancing. By the 1960s, the bands of other historically black campuses, such as Grambling and Tennessee State, began to mimic the Marching 100's flashy, crowd-pleasing style.
Dr. Foster's creation eventually became the most popular marching band in the country, a notoriety that remains unprecedented in the history of the band. Since 1955, the band has toured overseas, been featured in over 30 nationally-televised programs, dozens of magazine and newspaper articles, and has appeared in films, commercials, Super Bowl half-time shows, and two presidential inaugurations (both for President Bill Clinton). His band later performed at the first inauguration of President Barack Obama.
In 1985, the band received the prestigious John Philip Sousa Foundation's Sudler Trophy, considered the highest honor that can be bestowed on a collegiate band. In 1989, the band was the official representative of the United States at the French Bastille Day Parade in Paris, celebrating the 200th anniversary of the French Revolution.
Dr. Foster's leadership brought him the highest accolades in his profession. He was named a member of several halls of fame administered by the nation's elite organizations, including the National Association for Distinguished Band Conductors, the Florida Music Educators Association, and the Afro-American Hall of Fame. In 1994, he was elected president of the American Bandmasters Association, and in 1996, the U.S. Congress approved his appointment by President Clinton to serve on the National Council on the Arts. In August 2000, Dr. Foster was knighted by France and was awarded the Diploma of Chevalier of the Order of Arts and Letters. This award recognizes eminent artists and writers who have contributed significantly to furthering the arts in France and throughout the world.
In addition to numerous awards and accolades, Dr. Foster was inducted into the Florida Artists Hall of Fame and is a recipient of the Great Floridian Award.
MRS. MARY ANN DUNCAN FOSTER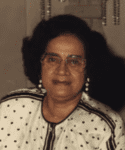 Mrs. Mary Ann Duncan Foster, affectionately known as Ann, was born in Shreveport, Louisiana, and was educated in the public schools of Shreveport, Louisiana, and Kansas City, Kansas. Ann was a ballet dancer and an oratorical contestant during her elementary and junior high school years. She won many competitions and awards.
On August 8, 1939, she married William P. Foster. She was the loving mother of two sons, William P. Foster, Jr., and Anthony F. Foster, and an affectionate and nurturing grandmother and great-grandmother.
Mrs. Foster attended Wayne State University. After attending X-ray technician classes at Kansas City General Hospital, Mrs. Foster was employed as an X-ray technician at Florida A&M College and served as secretary to Dr. Leonard H. B. Foote. She later became secretary and office manager of Student Activities at Florida A&M University and retired in 1987 after serving the Florida A&M College and University for 41 years.
Ann served for many years as President and Secretary of the Tallahassee Chapter of The Links, Incorporated, and as Secretary to the Florida A&M University Medical Clinic and the William J. Gunn Medical Association. She became a platinum member of Links, Inc. after 50 years of membership. She was a member of St. Michael and All Angels Episcopal Church, where she served on the vestry.
Mrs. Foster was the recipient of numerous awards, honors, and citations. She received awards for service to students from Florida A&M University's Department of Student Affairs, Student Activities, Student Government Association, the University Band, the McDonald's All-American High School Band, and former FAMU President Frederick S. Humphries.
Additionally, Mrs. Foster received a special service award for 17 years as a Docent at the Florida Governor's Mansion. The award was presented to Mrs. Foster at a luncheon given by the wife of former Florida Governor Bob Martinez.
Over the years, one of the more rewarding life experiences Mrs. Foster recognized as being a supporter of her husband, Dr. William P. Foster, successful efforts of the FAMU Music and Marching 100 Band programs. It was her nurturing and constant counsel to her husband and her deep devotion to the students, more distinctly, to students of the band program, that left a legacy in her own right. She was affectionately known as the band mom.
She was the force behind the Man Behind the Baton.